Incredible! $1,500 Challenge Match Gift
One of our classmates has indicated that they want to give an additional $1,500 to the class gift. It is another "challenge grant".
For every $75 and greater donation that is made to the Class Gift Fund, they will match it (up to a total of $1,500).
If you give $75, they will match your gift with $75 for a total of $150. Give $250, they will give $250 for a total gift of $500. So far, the Class of 1978 has raised $5,763 for Allderdice. Please help to make sure that all of the $1,500 match is used!
If you want to make a gift (or increase your previous gift), as long as it is $75 or more, it will be doubled and you'll also receive a set of coasters (see below).
We are still accepting any size donation to the class gift if that works for your budget. Just click the link below. Every gift is appreciated and helps!
Fundraising Status: $5,673 raised to date - Monitor delivered
So far, thanks to the generosity of 68 people (including Mr. Fisher) who have made donations and another 11 who bid on Silent Auction items ($465) as a class, we've raised $5,673. This does NOT count the $1,500 matching challenge. The $5,673 does include the first $500 matching challenge that was a gift from a different classmate.
We have already purchased a 70" Monitor and it has been delivered to Allderdice. As soon as it has been installed, photos of it will be emailed to you. If all of the $1,500 is matched, we'll have raised close to $9,000 for the next generation of Allderdice students.
Drama class wants a Film-making Workshop and needs Wireless Microphones
At the Reunion, Dr. McCoy, the new Allderdice Principal made an appeal for a wireless microphone system for the drama club. They spend almost 50% of the cost renting them every year. The cost of a new system is in the range of $2,000 - $2,500. In addition, Allderdice would like to have funding for film making workshops by Steel Town Entertainment. The cost is $2,500. If we are generous as a class, Allderdice will have funding for the wireless mics and TWO film making workshops.
Give $75 or more and get a free set of Laser Engraved Wooden Coasters
By purchasing ads in the program honoring Mr. Fisher, Squirrel Hill merchants have underwritten the cost of this set of Laser Engraved Coasters that are made from 1/8" Baltic Birch that are hand rubbed with two coats of Tung Oil. With a retail value of $35, this highly detailed set of Coasters is 3 3/4" wide and will be mailed to you at no cost.
Class members who have already donated $75 or more should either have received their coaster set at the reunion or they are in the process of being mailed to you if you did not attend the reunion.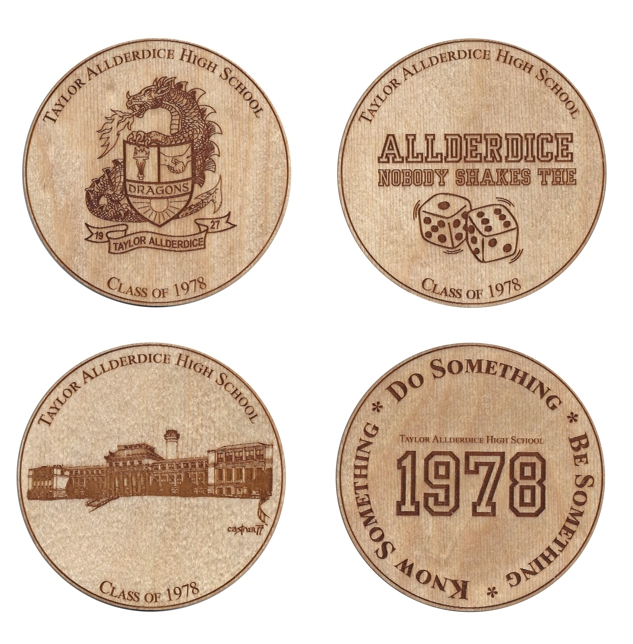 Know Something,
Do Something,
Be Something...
Give Something!
Please join the following 68 Classmates who have donated $5,573 to the Class Gift:
The cost of the monitor that will be our Class Gift to Allderdice is approximately $2,500. We hope that you can find it in your heart to donate between $10 and $200 to the next generation of students.
We're sure that you have all heard about the issues regarding the old Allderdice Alumni Association in 2017. To prevent any issues, the Reunion Committee will purchase the monitor and have it delivered to Allderdice and make sure that it has been installed. This is the same process that was followed in 2008.
If we can't raise enough money for a monitor, we'll determine another item that can be utilized for the benefit of the students and staff.

In 2008 on the occasion of our 30th Reunion, our Class of 1978 raised nearly $2200 and purchased two (2) Bike Racks for Allderdice High School to fulfill Principal Robert Scherrer's request.
The excess money (approximately $500) that was raised helped to fund an Eagle Scout Project that built a Gazebo for the use of the residents at the Charles Morris Nursing and Rehabilitation Center.